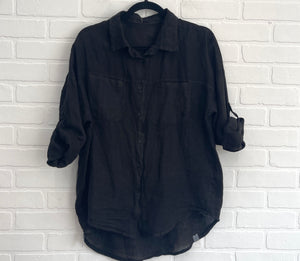 Elevate your wardrobe with our exquisite linen button-up shirt, a fusion of classic style and modern sophistication. Crafted with meticulous attention to detail, this shirt features the timeless charm of linen fabric combined with the practicality of a button-up design. The standout elements of two flap pockets add a touch of functional elegance, perfect for stashing essentials or adding a stylish twist.
Designed to offer both comfort and versatility, this linen shirt effortlessly transitions from casual to semi-formal occasions. The breathable linen fabric ensures a cool and comfortable wear, making it ideal for various seasons. Embrace the beauty of simplicity with a shirt that embodies both fashion and function.
Unveil your style with a piece that combines timeless appeal with contemporary elements. Whether paired with jeans for a laid-back vibe or dressed up with slacks, this linen button-up shirt is a must-have addition to your collection. Shop now and redefine your wardrobe with this elegant and versatile piece.
This is a classic button-up shirt. Very trendy this season!! It is made from 100% Italian linen.