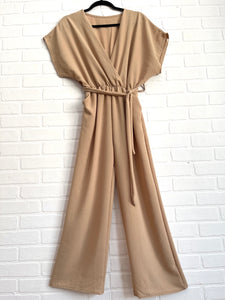 Introducing our fabulous jumpsuit, designed with care to elevate your comfort and style to new heights. Crafted from super soft viscose, this one-size-fits-all piece promises a perfect fit and an unrivaled feeling of luxury against your skin.
With its cleverly designed V-neckline, this jumpsuit accentuates your figure while exuding a touch of sophistication. Embrace the convenience of two pockets, adding functionality and a chic flair to your outfit.
Whether you're lounging at home, running errands, or attending a casual gathering, this jumpsuit offers unparalleled comfort and versatility. Slip into this super comfy piece and experience the freedom of movement and fashion-forward sensibility.
Elevate your wardrobe with our must-have jumpsuit, made from premium materials and thoughtfully designed for your utmost pleasure. Shop now and embrace the perfect blend of softness, style, and practicality with our jumpsuit made from super soft viscose.
Jumpsuit| One size