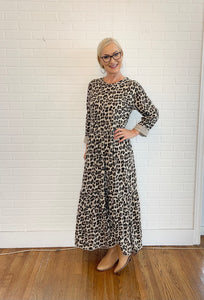 Indulge in the allure of our animal print tiered dress, a true fashion statement that's perfect for any occasion. This dress features a fitted top with a round neck and long sleeves, exuding both comfort and style.
The tiered bottom adds a touch of movement and elegance, enhancing the dress's overall appeal. Available in both long and short versions, this dress offers versatility to suit your preference.
Crafted as one-size-fits-all, this dress ensures a flattering fit for everyone. Whether you're seeking a casual day look or a chic ensemble for a special event, our animal print tiered dress is the ultimate choice.
Upgrade your fashion game with our animal print tiered dress, complete with a fitted top, round neck, and long sleeves. Available in long and short versions, this dress embodies both fashion-forward sensibility and comfort. Shop now and embrace the captivating charm of this must-have dres 
stunning boho style animal print dress |  one size | cotton | Made in Italy