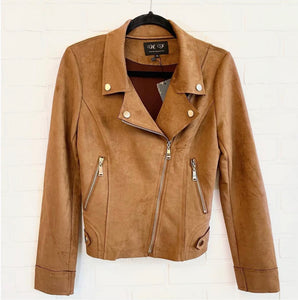 Discover the allure of our aviator-style jacket, exquisitely crafted from super soft faux suede. This jacket is the epitome of both style and comfort, offering a luxurious feel against your skin.
With its zipper and button snaps details, this aviator-style jacket exudes a trendy and edgy appeal. Embrace the perfect blend of fashion and functionality, as the zipper and snaps not only enhance the overall design but also provide easy wearability and a secure fit.
Elevate your outerwear collection with this statement piece, perfect for chilly days and adding a touch of sophistication to any outfit.
Indulge in the ultimate combination of style and comfort with our aviator-style jacket made from super soft faux suede. Shop now and experience the timeless charm and unbeatable coziness of this must-have jacket..