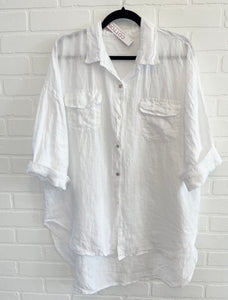 Made from premium linen fabric, this button-up shirt combines classic design with a modern sensibility, making it a must-have in every fashion enthusiast's collection.
The button-up design and tailored fit provide a polished and flattering silhouette that enhances your confidence and style.
With its timeless appeal, the Classic Linen Shirt transcends fleeting trends and remains a wardrobe staple for years to come. Its versatility allows you to create endless outfits that reflect your unique sense of style. From formal events to casual outings, this shirt effortlessly adapts to any setting.
Invest in our Classic Linen Shirt and experience the perfect combination of timeless elegance and unrivalled comfort.