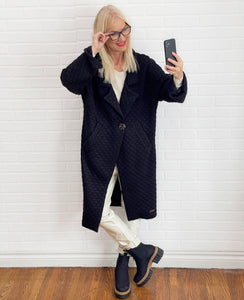 Experience European elegance with our luxurious loose-style coat featuring lapels and one big button detail, all crafted from quilted-style fabric. This coat exudes sophistication and timeless charm, perfect for elevating your winter wardrobe.
The loose fit ensures comfort and allows for easy layering, making it a versatile piece for various occasions. The quilted-style fabric adds a touch of texture and warmth, perfect for staying cozy in fall weather.
Embrace the allure of European fashion with this coat, designed to be both chic and practical. Whether you're attending a special event or strolling through city streets, this coat will elevate your style effortlessly.
Indulge in the beauty of European-inspired fashion with our quilted-style coat, featuring lapels and one big button detail. Shop now and embrace the elegance and warmth of this statement piece.
Collared coat | Quilted print fabric | The perfect long coat | European style | One size