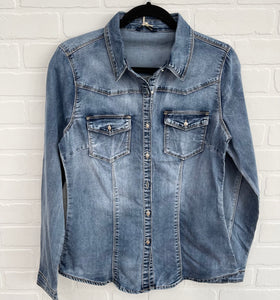 Discover timeless style with our classic denim shirt, designed in a fitted style that exudes sophistication. Crafted for comfort and durability, this shirt is a versatile addition to your wardrobe.
Featuring practical pockets and metal snap buttons, this denim shirt effortlessly balances fashion and functionality. The fitted silhouette offers a flattering fit, while the metal snap buttons add a touch of edgy detail.
Whether you're going for a casual day out or dressing up for a stylish ensemble, this classic denim shirt is the perfect choice. Embrace the enduring appeal of denim fashion with a modern twist.
Upgrade your look with our fitted denim shirt, complete with pockets and metal snap buttons. Shop now and experience the perfect fusion of style and practicality with this wardrobe essential.