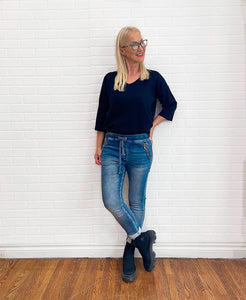 Introducing our versatile jeans jogger style with zipper pocket detail designed for both comfort and style. Crafted with meticulous attention to detail, these jeans feature an elasticized waistband and drawstring, offering a customizable fit that embraces your body's contours. The unique crinkle look adds a touch of texture and modernity to the classic design.
Experience the perfect blend of comfort and fashion as you indulge in the relaxed elegance of these jeans. The fitted style ensures a flattering silhouette, while the elasticized waistband and drawstring provide a secure and adaptable fit.
Elevate your denim collection with a pair that effortlessly combines casual chic with a hint of individuality. Whether paired with a simple tee or dressed up with accessories, these jeans with an elasticized waistband, drawstring, and crinkle look are a versatile and stylish addition to your wardrobe. Shop now and redefine your denim style with unparalleled comfort and contemporary flair. #ElasticizedWaistbandJeans #CrinkleLook #FittedStyle
These jean joggers are super soft, comfy and cute. They are a great addition to your jean collection!