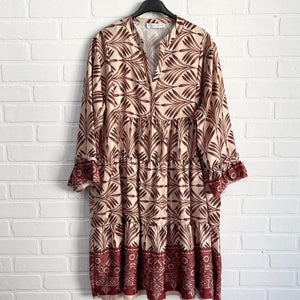 Embrace boho-chic fashion with our exquisite satin boho-style dress, exuding elegance and free-spirited charm. Crafted with care, this dress showcases the luxurious feel of satin, draping you in pure comfort.
The dress features a captivating Mandarin collar, adding a touch of cultural flair to its design. Embrace the artistry of tiered layers, creating a flowing and graceful silhouette that flatters every figure.
Perfect for summer festivals, beach getaways, or casual gatherings, this boho-style dress effortlessly channels your inner bohemian goddess.
Experience the enchantment of boho fashion with our satin dress, designed to embody the essence of free-spirited elegance. Shop now and indulge in the carefree allure of our boho-style dress with a mesmerizing Mandarin collar and tiered layers.
Beautiful print dress | One size | great design | V neckline | ruffles on the sleeve