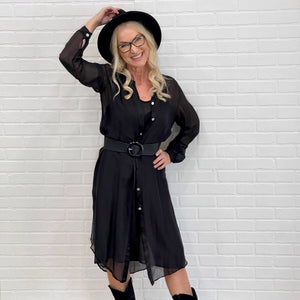 Introducing our long blend of silk button-up shirts - a true epitome of versatility and sophistication. Crafted with a perfect blend of silk, these shirts offer a luxurious feel and a timeless appeal.
From the boardroom to a night out, these shirts effortlessly elevate your style. The button-up design adds a touch of classic elegance, while the long length provides endless styling possibilities.
Dress it up with tailored pants and heels for a polished look, or dress it down with jeans and flats for a chic casual outfit. The versatility of these shirts knows no bounds, making them an essential staple in every fashion-forward individual's wardrobe.
Embrace the beauty and flexibility of these long blend silk shirts, perfect for any occasion. Shop now and experience the perfect fusion of sophistication and adaptability with our luxurious silk button up shirt  | made in Italy