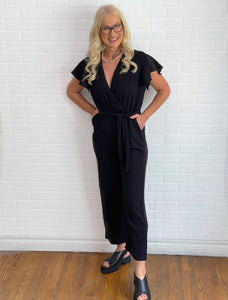 Step into the world of fashion-forward elegance with our Deep V-Neck Jumpsuit – a true statement piece for any occasion. Crafted with a blend of luxurious viscose and poly, this jumpsuit is designed to drape you in comfort and style. The elasticized waistline not only offers a flattering fit but also enhances your silhouette, making it perfect for various body types.
This jumpsuit comes complete with a fabric belt, allowing you to cinch it at the waist for a more tailored look, or wear it loose for a relaxed and chic vibe. It's the versatile piece your wardrobe has been waiting for.
Embrace the blend of comfort and sophistication in this meticulously crafted ensemble. Whether you're headed to a special event, a night out on the town, or simply enjoying a stylish day, our Deep V-Neck Jumpsuit has got you covered. Elevate your fashion game and experience the allure of this must-have piece. Shop now and make a bold fashion statement!